Let me take you back to July 2019. I'd just posted my first commission off to Stitch magazine and was feeling super pumped. I jumped straight into designing my next pattern. After years of dreaming of starting a creative business, I was on my way!
However, it was only this month that I finally released the pattern. Nearly 18 months later!
Why did it take me so long?
Honestly, I had all sorts of emotions, fears and mental blockers come up. Which caused me to make things much harder than they needed to be. I've learnt a lot in the process, so I thought it would be interesting to share.
Inspiration
In my art I've often been drawn to animal subjects. I like to make a connection with the natural world, especially as it reminds me to look outside of my bubble. Wildlife watching fills me with wonder so I've taken a few wildlife holidays.
My most recent one was a trip to Costa Rica where I was blown away by the amazing wildlife. Did you know that Costa Rica is home to around 500,000 animal species??
Truly a wildlife haven!
So when thinking about design subjects, I quickly decided that I wanted to create a series of patterns inspired by the animals I saw on my trip. I've got a long list of subjects to work through!
First up I choose a hummingbird as we saw them in many of the places we visited and I loved their beautiful colours. So I went through the photos I'd taken on the trip and got sketching.
After a few iterations, I was happy with my design then set about choosing my colour palette and creating my stitch plan. It was great to use the skills I'd learnt during my Royal School of Needlework crewelwork module.
A good start
It wasn't long before I'd jumped into the stitching, eager to see how my ideas would turn out.
I was thoroughly enjoying it and by the end of August, I'd nearly finished the stitching. Just one flower left to go.
However this is where I stalled.
I started umming and ahhing over what colours and stitches I wanted to use.
Deep down I did know how I wanted to stitch it. But I let self doubt take over and I started overthinking.
In the end, the project got relegated to something that I'd finish "soon".
What was going on?
I was scared of failure.
I was also protecting my ego.
By not finishing and releasing the pattern, I didn't have to face the possibility that no one would like it. As long as I was still working on the pattern, I could keep telling the story that it would be a great success when I released it.
But under the surface there were some uncomfortable questions lurking.
What if I released it and no-one brought it? What would that mean? That my dreams of building a creative business were just dreams? That I didn't have what it took to be a designer?
Is it any wonder that I stalled while putting all that pressure on myself?
Reality check
Since I started working on the hummingbird pattern, I've been reading and listening to a lot of entrepreneurial and personal development content. I've also worked a lot on my mindset.
Clearly I'd been putting way to much pressure on myself with my crazy high expectations.
I love a good quote and one that really helped to put this in perspective for me is:
"The day you plant the seed is not the day you eat the fruit" – Fabienne Fredrickson.
This made a couple of things click for me. First, the importance of patience and nurturing. Second, if you want to eat the fruit you have to actually plant the seed in the first place!
Along with this, I realised that I had to reframe my view of success.
I started to see success as a journey instead of an event. I remember reading the idea that happiness isn't getting what you want. Happiness is the process of working towards what you want.
Getting out of my own way
So finally in June this year I got out of my own way and finished the last flower. I'm quite embarrassed to realise that I'd left this project idle for nearly a whole year!!
It wasn't all plain sailing from there. I still had moments where I'd get a bit overwhelmed by everything that I had to do. When I started to feel like this, I'd focus on breaking down what I needed to do into clear, discrete tasks. I also got very disciplined about my daily prioritisation. Working hard to not let myself get distracted by a shiny new project.
It still took me longer than I'd imagined to get the pattern actually released. But the important thing is that I did it and the next time should be a little bit easier.
Fingers crossed anyway!
The really ironic thing about all this is that a large part of my day job has been leading the process of building and releasing products! Believe it or not, I'm actually very good at that. I guess it just goes to show that a lot more can come up when you're doing something for yourself.
So, the last 18 months have been quite the learning curve for me!
I've still got plans to create many more Costa Rica inspired designs. And now I feel much better equipped to turn my ideas into reality. I promise it won't be another 18 months before you see the next one!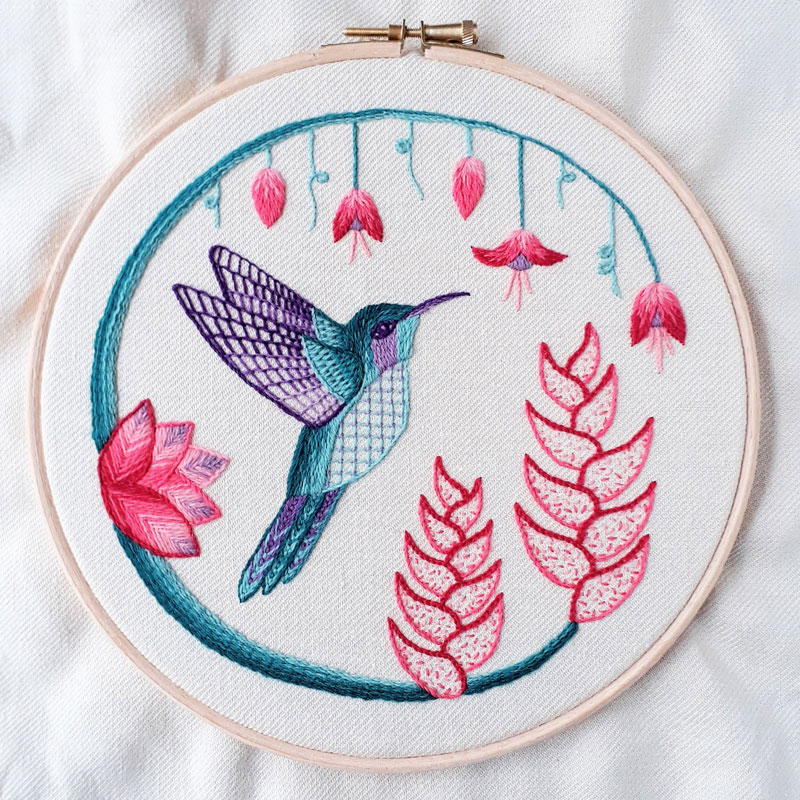 You can buy the hummingbird pattern here. You'll probably stitch it faster than I did!
---
Stay in the loop
Sign up to get notified about new blog posts, freebies and products.
Elara Embroidery will use the information you provide here to send you emails that keep you informed about our latest news and products. You can unsubscribe at any time by clicking the link at the bottom of one of our emails. For more info, see our privacy policy.