What equipment do you need for embroidery? Surprisingly little to get started! This also makes embroidery a great craft to take on your travels. Since it won't take up much luggage space. In this post I'll walk through the basic equipment for getting starting as well as the tools I use most often for my embroidery.
What equipment do you need to start embroidery?
The essential tools and materials that you'll need for embroidery are simply:
Fabric
Thread
Needle
Scissors
When starting out, I'd generally recommend buying a kit as it should come with everything above except the scissors. The design is often already transferred onto the fabric for you, so you can get straight to stitching!
A pair of embroidery scissors are worth buying and you can get a decent pair without having to spend loads. The key is to get a pair with a fine, sharp point that allows you to get close to the fabric and accurately snip your threads.
I use Fiskars embroidery scissors and I don't use them for cutting anything else. That helps to keep them nice and sharp.
Do you need an embroidery hoop?
The short answer is no, but it's generally recommended.
It's not essential to use an embroidery hoop or frame. Although I'll use one 99% of the time as it makes my stitching easier and more enjoyable.
A hoop will hold your fabric nice and taut while you stitch, making it easier to get a consistent stitch tension and thus nice looking stitches.
Since the purpose of the hoop is to hold your fabric taut, it's important to adjust and re-tighten if your fabric starts getting slack. You're aiming for your fabric to be drum tight. Meaning that if you tap on it, it sounds like a drum.
After you've placed your fabric in your hoop and tightened the screw by hand, you can then work around the hoop pulling your fabric even tighter. To keep my fabric firmly in place, I use a screwdriver to tighten the screw more than I'd be able to by hand.
Hoop upgrade
A standard embroidery hoop is held in one hand while you stitch with the other. This is great for small projects on the move.
However, when I'm at home, my preferred set up is to use a seat frame that allows me to use both hands for stitching. A seat frame has a flat wooden base that you sit on, keeping your stitching in place just in front of you. You can adjust the height and angle of your hoop so that it's most comfortable.
I use the Elbesee seat frame that comes with 3 different size ring frames (6, 8 and 10 inches). These 3 sizes cover me for all the different size embroideries that I'd stitch with a hoop, so are all I need.
I also like that the ring frames are deeper than standard embroidery hoops, which helps to keep a better tension in my fabric.
When I first saw one, I thought it might be uncomfortable to sit on the slab of wood. But I actually don't notice it and like the flexibility of being able to move it around if I need.
However, if you don't like the idea of sitting on your frame, there are other options. You can also get special clamps that hold your hoop or frame in place. These come either free standing or that attach to a table. So you can use whichever best suits your stitching set up.
In my embroidery box
With regular trips to Hampton Court Palace for my Royal School of Needlework lessons (pre-covid anyway!) I quickly figured out the essential embroidery equipment that I always wanted to have with me.
I keep it stored together in this small box that's easy to carry. This is also pretty useful when I'm stitching at home, as I just need to get out this box and know that I've got all the tools that I'll need. The majority of the time at least!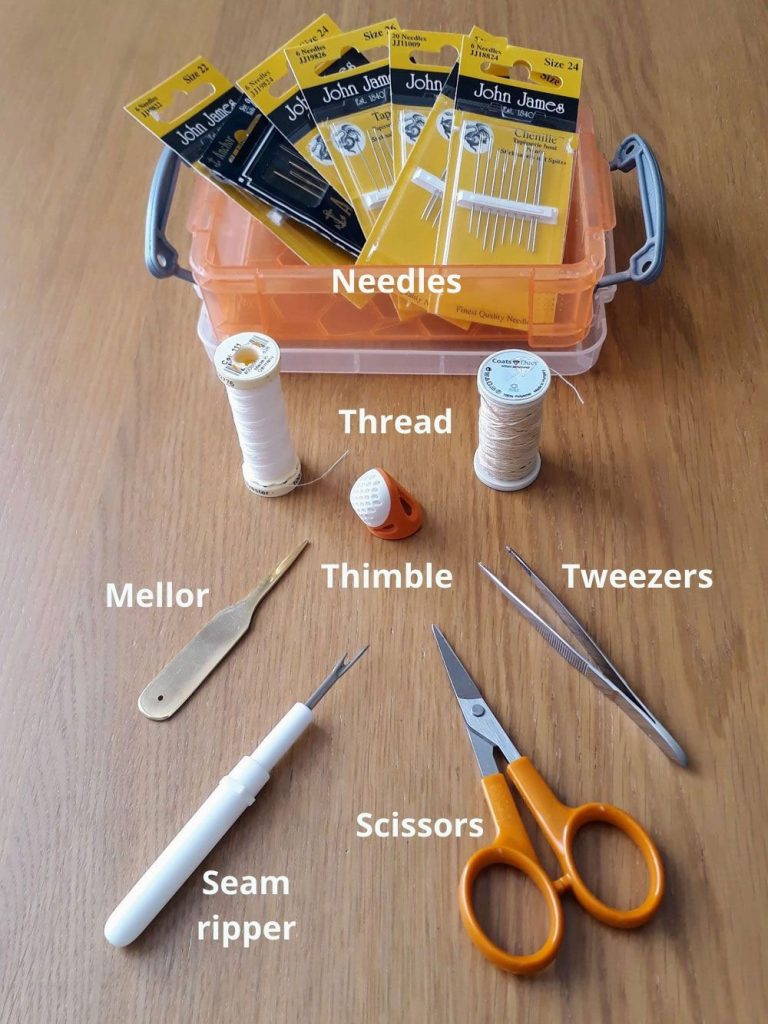 Scissors
Since embroidery scissors are nice and small, they don't take up much room. Travelling with them in this sturdy box also means I don't have to worry about the point damaging anything in my bag.
Needles
I keep a selection of my most used needles to hand. These are:
Chenille needles for crewelwork and stitching with multiple strands of cotton
Tapestry needles for crewelwork, blackwork, canvaswork and cross stitch
Embroidery needles for stitching with one strand of cotton, e.g. silk shading
Seam ripper
Mistakes will happen and I like to use my seam ripper for cutting away stitches. You could use embroidery scissors for this. I'm more accurate with the seam ripper and so I'm less likely to cut some threads or my fabric(!) unintentionally.
Tweezers
I use these for removing small bits of fluff and thread. Often after I've been using my seam ripper!
They are also useful for removing small bits of tissue paper if I'm transferring my design that way.
Thimble
I've never gotten on particularly well with thimbles so mostly I don't stitch with one. However, I've found that prolonged stitching with a fine needle starts to create a hole in my finger! So I have one in my box just in case.
While you can get lovely metal ones, I find they either keep falling off my finger or start feeling icky if they are tight enough not to fall off easily.
So, after trying a few different options, my preferred thimble is the Prym ergonomic one. The ventilation holes help prevent my finger feeling too sticky. It comes in four different sizes to get a good fit, I found the small size is best for me.
Mellor
This is generally billed as a goldwork tool. Although I first got one to help me with canvaswork and creating smooth stitches while using multiple strands of cotton in my needle.
I also sometimes use it for crewelwork when I want to gently move some stitches.
Thread
I keep a couple of spools of thread in my embroidery equipment box just in case. One is regular sewing thread and the other is buttonhole thread (thicker, stronger). These are useful for framing up, finishing off embroideries and making temporary lines on my fabric.
Additional embroidery equipment
The other piece of equipment that I couldn't do without is my embroidery light.
For years I didn't use a special light when stitching. Then while doing my blackwork module for the Royal School of Needlework (RSN) I noticed that my eyes would get tired quicker when I was stitching at home. The classroom at the RSN has really good quality lighting, so I realised it was time to investigate better light options.
There are a lot of options out there, so I did a bit of research and asked for advice on Instagram. The PURElite brand was recommended. It's not the cheapest, but I knew this was an investment purchase.
Even knowing a good brand, there are still a few options to choose from. So I figured out that main things I wanted were:
Daylight lamp option to minimise colour distortion of my threads under the artificial light.
Free standing so that I can move it wherever I need it.
Includes a magnifier. Safety note – always keep this covered when not in use!
I went with the PURElite tri-spectrum magnifying light. I'm really happy with it and always use it, unless I'm stitching next to the window and it's a sunny day.
Final thoughts
There's all sorts of weird and wonderful equipment that you could get for embroidering. Which can sometimes get confusing.
So I hope it's been useful to take a look at the tools I use most often.
If all the options ever start to feel overwhelming, just remember there's nothing wrong with keeping it super simple and sticking to the basics of needle, thread, fabric and scissors. 🙂
I'd love to know what embroidery equipment you couldn't do without?
This post contains affiliate links. As an Amazon Associate I earn from qualifying purchases. Any money earned helps to cover the costs of running this blog. Hot chocolate's essential for running a blog, right?
---
Stay in the loop
Wanna keep in touch?
Get my latest tips, tutorials, inspiration, projects and musings on why embroidery is good for you delivered straight to your inbox each week!
Elara Embroidery will use the information you provide here to send you emails that keep you informed about our latest news and products. You can unsubscribe at any time by clicking the link at the bottom of one of our emails. For more info, see the privacy policy.